Vic Mensa: The Manuscript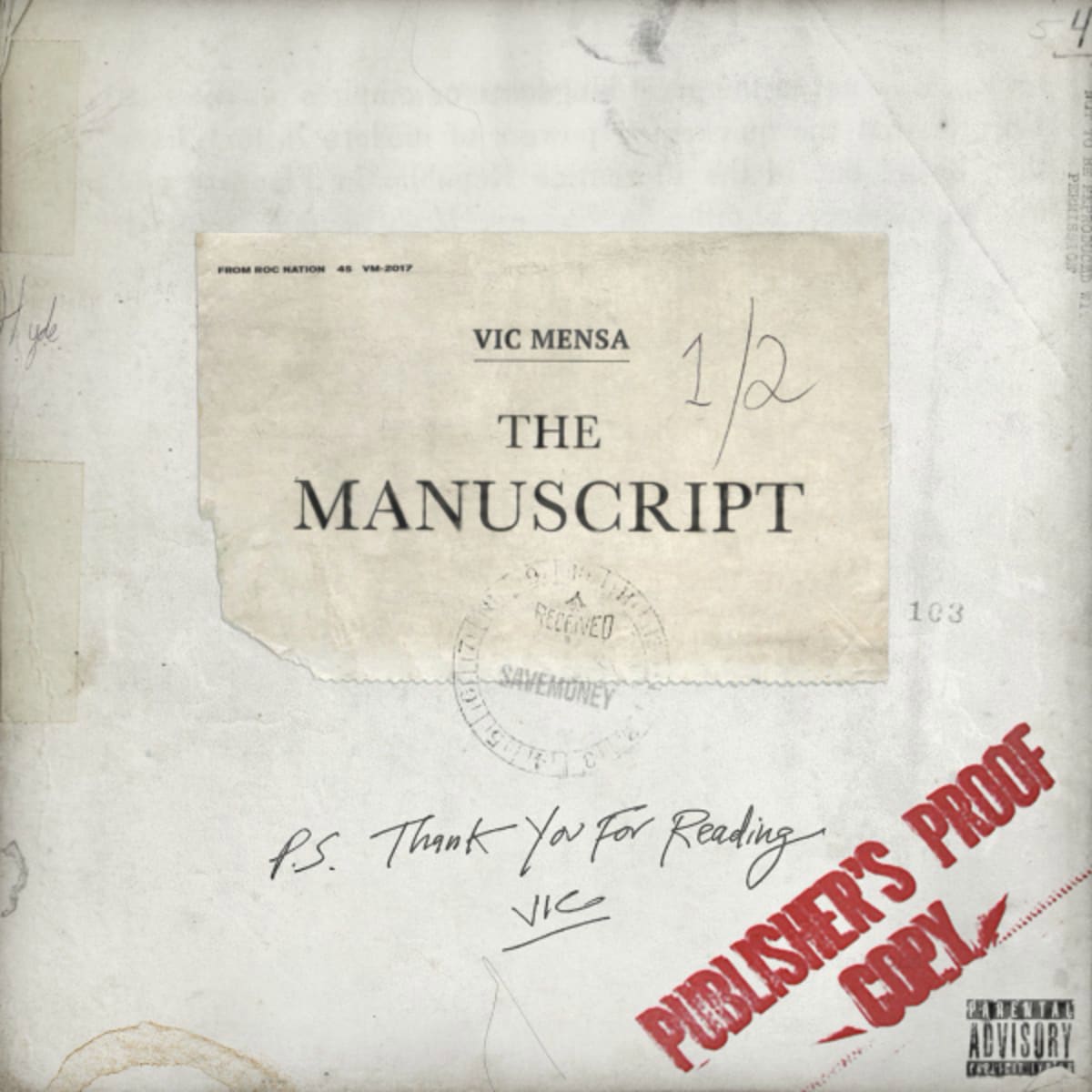 The return of one of my favorite new school artists is finally upon us. Chicago's very own Vic Mensa returned with yet another EP to keep the crowd occupied (at least in my opinion) until he finally drops Traffic; if that's still what the album is going to be called.
Following up after his last EP, There's Alot Going On, this project begins with Mensa reflecting on his previous style and how far he's come to ever go back in the first track "Almost There". "OMG" comes after with a harder bass and beat with the help of Pusha T. Both artists obviously bodied the track but Vic in particular seems to deliver with his anger cooled off for once. After trial and error he seems to have found a way to channel his anger without raising the volume.
If you know Vic's music then your already aware that he tries to carry both sides of hip hop and rock within his music from time to time. Not many artists have the talent to balance out different styles and sounds of music but Vic is one of the very few that knows what he's doing when it comes to this; and yet still gets better. Synth-heavy "Rolling Like A Stoner" and "Rage" represent my statement and are sure to keep the fans hype.
This is just the first part to a two-part project expressing the evolution of how far Vic has come from his earlier days with his standout mixtape Innanetape back in 2013. Who knows when the second half will drop but it's clear Vic isn't going anywhere. It makes me happy to see Mensa finally start to get some recognition as an artist. It's obvious he has what it takes to be a star from the projects he's dropped, but finger crossed the world will finally see what i see what this cat has to offer once his album drops. The Manuscript may be short, but that wont have anything to do with how often you'll listen to it. Definitely something that should be on repeat for a while.
Follow Vic Mensa: Twitter / Facebook / Soundcloud / Spotify
---
Goldlink: At What Cost
This is a coming-of-age story beautifully directed by the 23-year-old artist repping D.C. like no other, Goldlink delivered an impressive introduction with his debut studio album, At What Cost. What you can expect from this tracklist of obscure, abstract titles is groovy beats, penny catchy hooks and well delivered verses that'll make you wonder why you haven't bumped his music sooner.
The album begins with "Opening Credit" as a prelude track with dystopian noise and static to prepare you to stay toned for the show. The genre bending capability his music carriers floods with funk and rhythm from tracks like "Same Clothes As Yesterday", and "Have You Seen That Girl?". "Hands On Your Knees" shifts into an old-school jam feel that reminds me of a House Party vibe that everyone can kick it too.
Moving on to "Meditation", this neo-soul track which carries a smooth vocalized feature from Jazmine Sullivan can thank KAYTRANADA for a production of sounds representing elecro-funk. Beginning the transition into more hip-hop territory, "Summatime" is a jiving standout with a feature from fellow D.C. emcee, Wale. Coming with a robotism vocal hook, "Parable of the Rich Man" he expresses complicated experiences of an agitated lover now in the presence of fame; preferably one of my favorite tracks off the project.
Another D.C. crew-mate makes his appearance on "Crew" delivering his quickfire bars sure to get one hype, which adapts well with Baltimore-based crooner Brent Faiyaz's graceful vocals. The song expresses the youthful slant amid of the world Goldlink lives in now. Jumping ahead to the end, graceful guidance for the young generations, and whoever needs a soulful lift, "Pray Everyday (Survivor's Guilt)" is a perfectly executed ending with the hook: "Pray everyday, say your grace/nigga, Keep the haters, keep the demons' way fam." I think what makes Goldlink one of my favorite new artists is how he remains consistent in the sense of his Soundcloud demeanor to his present RCA Records identification. His flow, rhythm, sound, and everything else this young artist had to offer in the beginning from his first project The God Complex is still present 3 years later. This album represents pure, genre-fusing rap with a good sound and vintage flavor.
Follow Goldlink: Twitter / Facebook / Soundcloud / Spotify
---
J.I.D: The Never Story
It's obvious that whoever J. Cole signs to Dreamville are recognized as someone who shouldn't be taken lightly; J.I.D. has done nothing but keep that statement going. The Never Story is a very enjoyable listen that is sure to be put on repeat. J.I.D.'s lyrical impact and pronunciation is commendable and entertaining, considering he comes hard with a noticeable attribute of absolutely NO trap beats OR auto-tune, very nice indeed.
The project begins with "Doo Wop", a brief impulse of a gospel croon of inspiration, then gets to business with "General" where J.I.D. drops bars addressing him getting kicked out of school for some trouble he got into during his football days, following up with a dark yet discerning look into his upbringing talking about his brother's court dates, his father's teachings from the military, and hating fake-ass "happy" trappers. Next up, "NEVER" carries a hypnotic beat you can't stop but listen to (courtesy of Christo Welch and Childish Major); but flourishes towards the end with lyrics reflecting him being a millennial not afraid to rap.
Around the middle of the album is where things begin to shift into a different glimpse of who J.I.D. is. Topics like friends and family come into play with "EdEddnEddy" and "D/vision" which was produced by Cole. Still, tracks like "Hereditary" takes you by surprise expressing a lovers vibe with the main line "why you playing with my heart"? "All Bad", featuring Marian Mereba, also highlights his artistry with whisper-resembling vocals; enthralling J.I.D. as a singer. Both songs bring listeners to the representation of a couple collapsing – the expressiveness of realizing one might not be what they originally seemed/things not being the same anymore and the words that come before the final goodbye.
For someone who never wanted to be a rapper, J.I.D. sure has the talent and spirit of one. Jumping to "Somebody", a stream of consciousness can be felt from his recollections of past missteps and gaining knowledge of himself. The song's a groovy drum-driven offering with sweet vocals, making it one of the most attracting tracks. "LAUDER" is the perfect ending with expressive bars in-between voicemail's, explaining why he's "sick as a bitch"; entertaining the idea that southern lyricists are a myth. This 12 piece projection of J.I.D. is without a doubt well crafted and versatile; it's refreshing to hear a real lyrically based album in nowadays mumble rap game. Crisp beats and crafty lyrics enwrap The Never Story, making one understand why Cole obtained this fellow for the Dreamville team.
Follow J.I.D: Twitter / Facebook / Soundcloud / Spotify
---
Jacquees: Since You Been Playin'
I have to say that Since You Playin' is definitely one of those projects that is completely satisfying for one who loves R&B, but to be honest, not with every single track. The way that the project is laid out makes me feel like he intended for it to be two different pieces; but that's probably just him showing some versatility.
The first half gives off more of a me-and-my-crew, modern day R&B sort of vibe with "Just The Intro" beginning with him just introducing himself, talking about what he's wearing, comparing himself to T.I., etc. down to "Shot" with more of a fast paced up-tempo type beat with him rapping while singing. "B.E.D. Pt. 2" is exceptional, especially with the Quavo and Ty Dolla $ign feature, but really just revamping the previous version.
Skipping down to "Sex So Good" it's good to hear that Tory Lanez feature where the two artists balance each other out. It's more of a sexual song (implied by the title) that starts to slows things down. "Get Loose" returns back to the rapping and singing feel, discussing women letting go and showing what they working with.
Now, getting into my favorite few tracks on the project, "My Bizness"  and "Wont Waste Your Time" definitely carry that grown R&B sound where Jacquees is at his best. The slow pace of the songs along with his vocals harmonizing in the background really contribute to that feel of making-love. "10-4" picks it up a little bit, but remains delivering that fuego. It reminds me of more of a 90s R&B vibe, which is not a bad thing. Jacquees sounds more comfortable here too considering at the end of the day, he is a singer. It's obvious where his talent lies but the beginning of the tape is still a good listen. Overall, the project is definitely something I suggest testing out and seeing if you like his sound. I have hope for this cat as a new school R&B star.
Follow Jacquees: Twitter / Facebook / Spotify / Soundcloud
---
6lack: Free 6lack
To begin I believe it's fair to admit that most people are fairly interested with the bear in the background on the album cover. Pigeons and Planes were able to get the backstory on the whole thing in an interview with 6lack where he stated the bear was like a representation of himself.
The artists 6lack is a new face from Atlanta that's attacking the scene with compelling angles on his hit R&B sounds like "PRBLMS" and "Ex Calling". Both are bangers with classic traps sounds mixed together, but tend to not completely represent the album.
"Never Know" starts the album with angelic pulsing synths, giving it new feeling making me think it's supposed to represent his departure form his previous label. The next track "Rules" (my favorite on the album) hits harder with wavy vocals and a rolling trap snare. The lyrics refer to his previous experiences living in the 6.
Adapting more into his R&B side, the songs "Free", "Learn Ya", "Luving U", and "Worst Luck" feel more on a post break-up side of things, but yet still carry a very emotions vibe pulsing through the lyrics to connect to the ladies hearts. "Gettin' Old" comes around later with a steady percussion that you'll easily be able to move to; it tends to carry a Frank Ocean vide also. At the end of the album with "Alone/EA6", it begins with an interlude of 6lack going into detail of how he wants to stay true to the way that he does things, not giving in to how others want his methods to go (possible shade at his last label). He touches on identity and being human and an artist appreciated for their craft. 6 minutes in 6lack comes with probably the hardest flow on the album making it the perfect ending for a phenomenal project. I definitely recommend taking a listen.
Follow 6lack: Twitter / Facebook / Soundcloud / Spotify
---
Meek Mill: Dreamchasers 4
Meek Mill has finally made his comeback after a long summer of dealing with hate from fans after his beef with Drake. Dreamchasers 4 arrived a little later than it was expected to realease, but from careful time spent analyzing, it's obvious that Meek spent a lot of time preparing and getting ready for this album from the flows, to the beats, to the features.
Starting off with the intro "On The Regular", the tape begins with a fast paced tempo filled with decent lyrics and a sample from "O Fortuna", but doesn't really pick up till the later tracks "Blessed" where Meek begins to lay down his strong lyricism over a more New York sounding beat continued with "Litty" with a feature from the Toronto rapper Tory Lanez.
You can see Meek beginning to step out of his comfort zone with a more muted beat on "Offended" with features from Young Thug and 21 Savage. A more Atlanta vibe can be sensed from "Way Up" with a Tracy T feature that shows that Meek will always take the chance to show his aggressiveness where fans have known him to be.
Tracks like"Shine" prove to be one of the best showing Meeks powerful inspirational vibe combined with a more uplifting beat where he lays down line after line providing imagery of his early struggles in Philly.
Overall, Dreamchasers 4 was a good way to welcome Meek Mill back into the game with open arms. The album was beautifully put together and very well mastered for the public to enjoy.
Follow Meek Mill: Twitter / Facebook / Spotify / Soundcloud